Discover the best street food London has to offer, from juicy burgers to vegan sushi and sweet treats.
London's street food markets host a regularly changing lineup of traders, who can also be found at the numerous London street food festivals, best markets and food and drink pop-ups across the capital.
1. Biff's Jack Shack
Enjoy burgers and "wings" without the meat at vegan specialist Biff's Jack Shack. Using fried jackfruit as its key ingredient, you'll be able to get messy with plant-based street food that also includes the likes of vegan "bacon jam" and "blue cheese" sauce.
Find them: At various BrewDog locations across London and the Eat 17 stores in Walthamstow and Homerton, alongside various markets and festivals over the summer.
2. Liberty Kitchen
Ever wondered what prison food is like? Liberty Kitchen's meatballs are made by current and past inmates of Pentonville Prison, as part of a social enterprise scheme. The "Ball No Chain" range includes Italian-style beef meatballs, a Greek-influenced lamb alternative, or a veggie option with broad beans and lentils.
Find them: Leather Lane Market on Fridays and selected KERB markets.
3. Mother Clucker
Bite into succulent fried chicken at Mother Clucker, made using a secret blend of spices. The halal chicken here is first brined in tea, then soaked in buttermilk, and twice battered for crispiness and taste. Pair it with Cajun fries for a spicy hit.
Find them: Ely's Yard at The Old Truman Brewery (daily), Flat Iron Square (daily) and Backyard Cinema in Wandsworth (daily).
4. Spinach & Agushi
Go Ghanaian with Spinach & Agushi, whose flavour-packed stews fill a spot, whatever the weather. Be attracted by the aromas of chicken groundnut stew with peanut sauce, or spinach and agushi featuring melon seeds; and pair your dish with jollof rice and fried plantain for an additional taste of west Africa.
Find them: Exmouth Market on weekday lunchtimes, and Saturdays at Broadway Market and Portobello Road Market.
5. Mother Flipper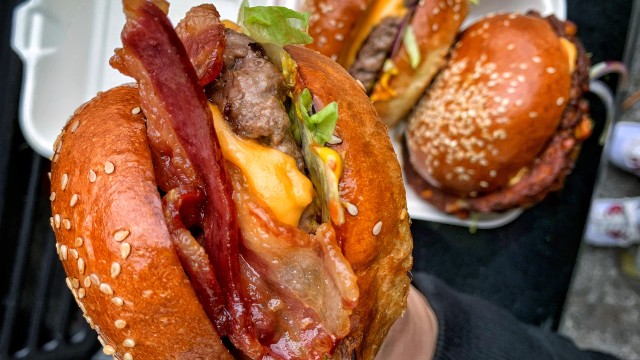 Get down and dirty with Mother Flipper's burgers, including its signature candy bacon burger topped with bacon fried in maple syrup. Keep an eye out for sister venture Korean Wings by Mother Flipper for sticky and spicy Asian wings.
Find them: KERB markets (on selected dates), Brockley Market (Saturday) and Victoria Park Market (Sunday).
6. The Rib Man
Brave The Rib Man's devilishly hot sauces on whole and half racks of ribs, or in rolls and wraps – or opt for smoky BBQ if you can't take the heat. Former butcher and avid West Ham United fan Mark Gevaux has built up a loyal following, so get there early to avoid disappointment.
Find him: Outside The Boleyn Tavern before West Ham United home matches and Brick Lane Market on Sundays.
7. Waffle On
Opt for something sweet as you get stuck in to one of Waffle On's delicious handmade waffles. Find everything from "apple strudel" to British classic strawberries and cream, or savoury options such as buttermilk chicken or bacon and egg.
Find them: Maltby Street Market on Saturdays and Sundays, and Broadway Market on Saturdays.
8. Wahaca Street Kitchen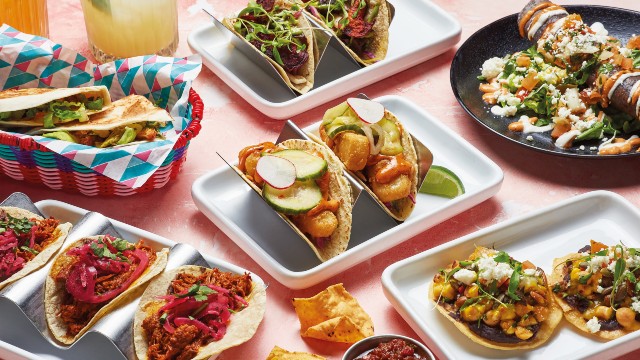 Sample food on the go from Mexican restaurant chain Wahaca. Moving away from the small plates restaurant concept, ex-Masterchef winner Thomasina Miers has created two roaming street food kitchens serving burritos, tacos and salads using ethically sourced ingredients.
Find them: South Bank (daily), and Canary Wharf (Mondays to Fridays).
9. Wandercrust
Choose from numerous toppings at wood-fired pizza van Wandercrust. The creatively named options (think Grayson Peary, which includes pear, mozzarella and gorgonzola) or Italian classics such as margherita are built on dough fermented for more than 30 hours for that extra flavour and springy texture.
Find them: KERB markets on selected days.
Uncover more London street food at the many daily or weekly food markets; including dedicated street food markets in London. For more foodie havens, take a look at our pick of the top food hubs in the capital.
Explore by category