1. Alain Ducasse at The Dorchester
Using produce from both sides of the English Channel, Executive Chef Jocelyn Herland fine-tunes Alain Ducasse's contemporary French cuisine with seasonal delights such as heritage tomatoes, Aveyron lamb and Anjou pigeon. The elegant and modern setting of the Michelin-three-starred Alain Ducasse at The Dorchester perfectly matches the kitchen offering, providing a refreshing alternative to more traditional French fine dining venues.
2. Brasserie Zédel
French food in the capital doesn't need to come with a credit card bill as hefty as a cheese-laden tartiflette. Brasserie Zédel, just footsteps from Piccadilly Circus, is a great place for a reasonably priced meal, where you can pick up classic dishes such as steak haché for as little as £8.75, while the two-course prix fixe menu is just £8.95. Dine amid the art deco splendour of the brasserie's spacious dining room, where the animated atmosphere encapsulates 1920s Paris.
3. Clos Maggiore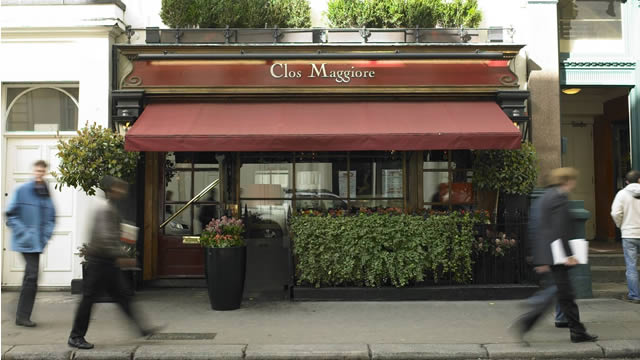 Are you seeking somewhere truly intimate? Clos Maggiore, tucked away discreetly in a Covent Garden side street, is a must for romantics. This Provençal-style eatery has an open courtyard in summer or a cosy dining room with a roaring fire in winter – all thanks to its retractable roof. On the menu, you'll find seasonal dishes with a touch of Mediterranean flair form Head Chef Marcellin Marc.
4. Galvin at Windows
If you're looking to woo, French food alone might not be quite enough. But top-notch Gallic fare AND a view? Now you're talking. Perched on the 28th floor of Hilton London on Park Lane with views of The Shard, Hyde Park and Buckingham Palace, the Michelin-starred Galvin at Windows serves modern French fare. The prices are not necessarily as high as the location, with a three-course set lunch available for as little as £30.
5. L'Atelier de Joël Robuchon
Combining the theatre of an open kitchen downstairs and the more intimate atmosphere of La Cuisine restaurant upstairs, L'Atelier de Joël Robuchon is one of London's more laid-back Michelin two-starred venues. The ground floor is perfect for solo diners, with chefs interacting over the counter with fellow diners; while upstairs is a haven for couples who can savour the modern French fare with more privacy.
6. Le Gavroche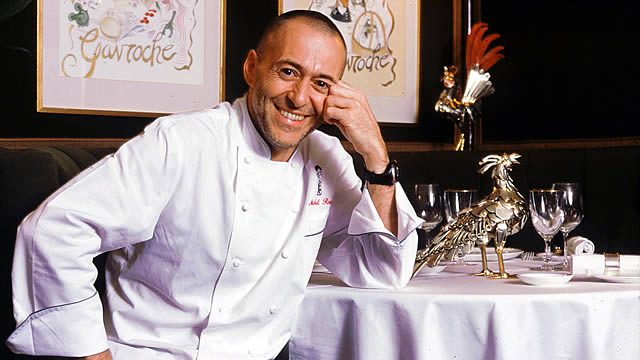 The legendary Albert and Michel Roux once helped to lay the foundations of London's world-class dining scene with the opening of Le Gavroche in 1967. But while the late Albert and Michel Snr might have started the family's love affair with the capital, Albert's son Michel Jnr has since taken over the reins of the Mayfair eatery with aplomb. If you're looking for top-end classical French fare, it's hard to look elsewhere.
7. Les Deux Salons
With its globe lights, marbled floor and leather banquettes, Les Deux Salons feels instantly Parisian. Being a few steps away from Trafalgar Square, Leicester Square and Theatreland, it's the perfect place for a low-key lunch and pre- or post-theatre bite. Choose from à la carte classics such as duck confit, or opt for the good value two-course prix fixe menu (£12.95) featuring soupe du jour followed by grilled chicken and gratin dauphinois.
8. Roux at The Landau
Helmed by a dream team of the late Albert Roux's son Michel Jnr and protégé Chris King, Roux at The Landau is both traditional in decor and cuisine. With a slight gentleman's club feel to it, with wood-panelled walls and leather seating, you can expect to find the likes of Dover sole or bitter chocolate millefeuille on the menu. If you want to splash out, try the tasting menu with wine pairing from £65, which showcases some of the best dishes on the menu.
9. Sketch: The Gallery
If the convivial atmosphere of a bistro or elegance of a fine-dining French restaurant leaves you as cold as a steak tartare, Sketch: The Gallery might just be the answer. A feast for all the senses, this unique concept has an emphasis on bold, progressive 'new French' food from chef Pierre Gagnaire and even bolder design from Fourth Plinth commissioned artist David Shrigley.
Explore by category