Rise, shine and dine in style at one of these special places for breakfast in London. Devour piles of pancakes, sip on colourful lattes at Insta-worthy cafes or tuck into a filling full English at restaurants across the capital.
1. Caravan Kings Cross
With freshly roasted coffee, pancakes and health-conscious treats, Caravan in King's Cross is a great place for a nourishing start to the day. Dip your flatbread into the baked eggs, which come with merguez sausage, pepper and chickpea ragout. Or try something lighter such as spiced yoghurt or porridge with dates and black sesame.
2. The Wolseley
The Wolseley is renowned for its breakfasts. So much so, you normally have to reserve a table in advance. Once settled in the grand surroundings of the former car showroom, choose a memorable breakfast from the varied menu: kedgeree perhaps or haggis with fried duck eggs. You won't need a mid-morning snack, that's for sure.
3. The Breakfast Club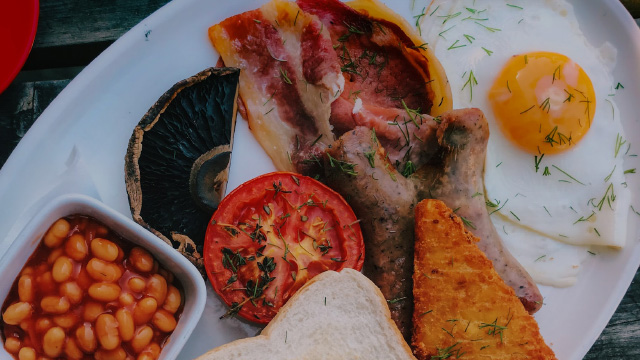 With venues across the capital, The Breakfast Club is the go-to spot for locals seeking a morning pick-me-up. Its signature dishes such piping-hot pancakes and cornflake buttermilk fried chicken with waffles, sit alongside egg dishes and full-English staples. Don't forget the breakfast cocktails, including a spicy bloody Mary.
4. Dishoom
Like the old Bombay cafes on which it's modelled, Dishoom is open morning to night. Prepare for the day with a cup of spicy chai and brioche-style bun maska that you dip into your tea. More substantial snacks include its famous bacon naan roll – a posh take on a bacon sarnie, vegan sausage naan roll, and flavour-packed Parsi omelette.
5. St. John Bakery
Every morning from 8am (10am on Sundays) St. John Bakery opens its doors into Neal's Yard and the smell of fresh doughnuts and bread fills the air. Grab a loaf of the moreish sourdough bread and stay to savour doughnuts and breakfast pastries, which are also available in its Druid Street pop-up in Bermondsey at weekends.
6. Duck & Waffle
Served up with a side helping of incredible views across London,
Duck & Waffle
's all-day brunch is served from 8am and includes the option of its signature Duck & Waffle dish with confit duck, waffles and maple syrup. If you're celebrating, why not add bottomless cocktails at this City hotspot.
7. The Good Egg
Middle Eastern inspired dishes are the order of the morning at
The Good Egg
, which started in Stoke Newington and has since broken out of its shell to set up in Carnaby's
Kingly Court
. Egg-based shakshuka and babka French toast soaked in spiced custard are sure to get your day off to an indulgent start.
8. The Barge House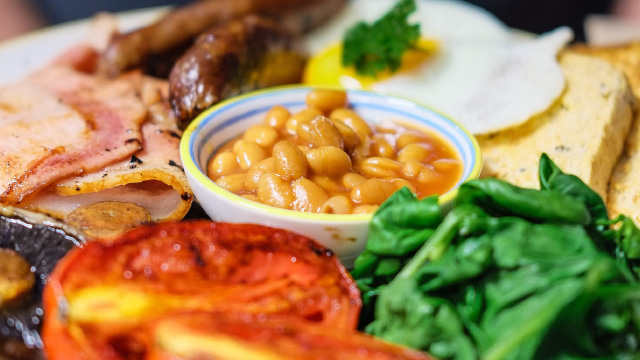 Take in the tranquil canalside atmosphere and enjoy the ingeniously named "Breakfast in Bread" at The Barge House. This Haggerston venue serves its breakfast in a hollowed-out loaf, with fillings spanning the vegan aubergine, olive, tomato and vegan cheese, to smoked salmon and creme fraiche, or sausage, bacon and egg.
9. The Modern Pantry
The Modern Pantry is inspired by the chefs that work in its inventive kitchens, and its breakfast menu is no exception. Enjoy fusion dishes spanning cuisines from around the world, including Asian flavours such as Korean-style chicken and prawn omelette with chilli sambal or Middle Eastern dukkah on muffins and eggs.
10. Scarlett Green
Aussie-style breakfast plates await at Soho's Scarlett Green. Sibling to Marylebone's Daisy Green, this laid-back venue is influenced by cafe culture in Sydney and Melbourne, with healthy dishes and top-notch coffee. Guilt-free bites include banana bread sandwich with honey mascarpone cream; and avocado, chili and celeriac toast.
Explore by category