Find out where to eat in London Bridge with this guide to the best dining spots and restaurants near London Bridge station. Browse cool eateries, diners and Michelin-starred restaurants.
1. The Ivy Tower Bridge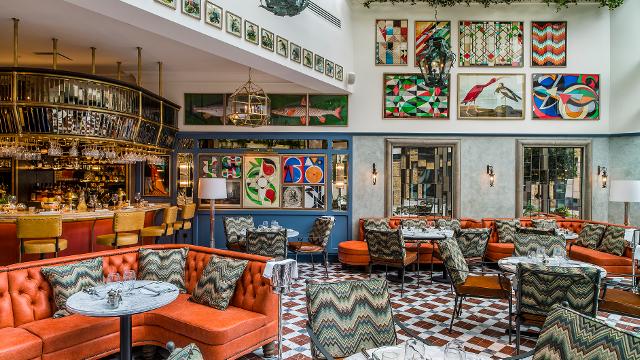 Enjoy modern British dishes with a spectacular view of Tower Bridge and the Tower of London at The Ivy Tower Bridge. Overlooking the beautiful Thames riverside and next to City Hall, this restaurant offers an all-day menu ranging from breakfast classics to lunchtime and dinner specials.
Location: One Tower Bridge, Tower Bridge Rd, London SE1 2AA
2. Arabica Bar & Kitchen
Tuck into a traditional Middle Eastern style feast at Arabica Bar & Kitchen, set in a beautiful brick Victorian railway arch. Expect colourful meze, vibrant small plates, homemade flatbreads made on the spot in the clay oven, washed down with delicious cocktails. The restaurant caters for all, from meat-eaters and pescatarians to vegetarians and vegans.
Location: Borough Market, 3 Rochester Walk, London SE1 9AF
3. Bob's Lobster
Tucked away in one of the red-brick spaces beneath London Bridge's railway station, Bob's Lobster treats you to a seafood-fuelled street food feast. Take your pick from an inviting menu of flavoursome British takes on American seafood classics, from fries with mussel and bacon chowder to crab rolls and lobster mac 'n' cheese.
Location: Unit 71 St Thomas St, London SE1 3QX
4. Cantina del Ponte
Head to Shad Thames for a taste of Italy with dazzling views of Tower Bridge. Get a table on Cantina del Ponte's beautiful terrace and enjoy homemade pasta, regional meat and seafood dishes, plus luscious desserts.
Location: 36c Shad Thames, London SE1 2YE
5. Casse-Croûte
Step into this cosy bistro on Bermondsey Street to savour traditional French fare in a friendly setting. Casse-Croûte's menu changes every day, but you can expect to find classics such as quiche Lorraine, champignon soup, beef bourguignon and crème brûlée, plus an all-French wine list.
Location: 109 Bermondsey St, London SE1 3XB
6. Texas Joe's
Head to Texas Joe's for an authentic Texas barbecue experience in London Bridge. Look for delicious slow-smoked meats, including USDA beef brisket, pork shoulder and beef ribs. Move to the Flying W Saloon after dinner for top-notch cocktails and a selection of Texan whiskies.
Location: 8-9 Snowsfields, London SE1 3SU
7. El Pastor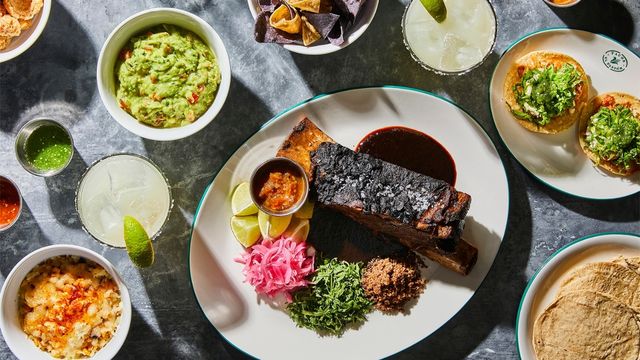 Tuck into a Mexican feast at El Pastor in Borough Market, a friendly eatery specialising in tacos and quesadillas. With tortillas made from scratch every day, El Pastor's tacos are fresh and full of flavour. The drinks menu features mezcal, tequilas and Mexican-inspired cocktails.
El Pastor: 7A Stoney St, London SE1 9AA
8. Baluchi
Dine like a maharaja at elegant Baluchi, housed within The LaLiT London hotel. Sample modern Indian dishes as you soak up the atmosphere of the vast room, which is punctuated with chandeliers, wood-panelling and ornate screens.
Location: 181 Tooley St, London SE1 2JR
9. Champor-Champor
A colourful and cosy restaurant filled with masks and tribal objects, Champor-Champor serves comforting Thai and Malay food in a candlelit setting. Choose between a vast vegetarian and vegan menu, featuring butternut squash green curry and laksa with crunchy chickpeas, or go for the traditional Malaysian beef rendang.
Location: 62-64 Weston St, London SE1 3QJ
10. The Coal Shed
Steak fans should look no further than The Coal Shed when looking for a restaurant in London Bridge. Top-quality meat is cooked on fire and charcoal to retain a natural flavour and texture. Tuck into a succulent ribeye, or visit on Sundays for the signature sharing roast.
Location: One Tower Bridge, Potters Fields, London SE1 2QR
11. José Tapas Bar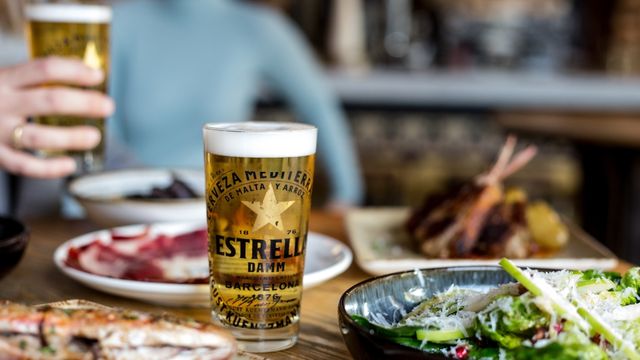 Share some delicious Spanish small plates with friends at lively José Tapas Bar on Bermondsey Street. Top chef José Pizarro puts together a daily changing menu of regional tapas alongside a wide-ranging sherry and wine list. For a full-on Spanish dining experience, head to Pizarro, the chef's second restaurant on the same street.
Location: 104 Bermondsey St, London SE1 3UB
12. Le Pont de la Tour
Sample traditional French food at Le Pont de la Tour on Shad Thames's riverside promenade. This nautical-themed eatery boasts refined French specialities such as smoked duck terrine and chateaubriand, with Sunday and pre-theatre menus also available.
Location: 36D Shad Thames, London SE1 2YE
13. Wawa
Get a taste of Japan at this modern and bright restaurant next to Tower Bridge. From sushi to tempura, Wawa offers an array of classic Japanese dishes in a relaxed setting, as well as more unusual bites such as oysters in panko and ramen katsu burgers.
Location: 173 Tower Bridge Rd, London SE1 2AW
14. Restaurant Story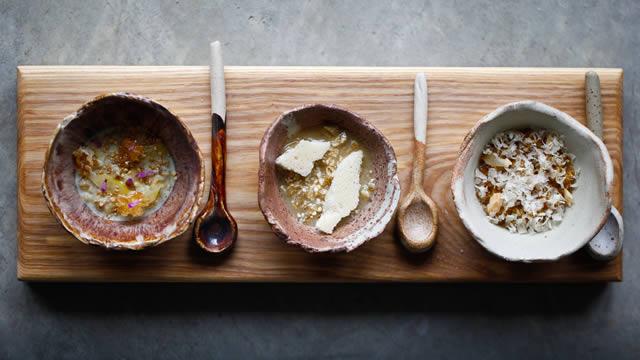 Embark on a culinary journey through chef Tom Sellers' imagination at Michelin-starred Restaurant Story. The tasting menu unfolds like a story, with a foreword (starter), three chapters (mains) and "the end" as dessert, and features experimental dishes such as bread and dripping served as an edible candle.
Location: 199 Tooley St, London SE1 2JX
15. Santo Remedio
Venture to Santo Remedio for a taste of sunny Mexico in London Bridge. A colourful and airy dining room sets the scene for a heartwarming food menu, boasting tacos, pork carnitas and seasonal specials such as octopus tostadas and hibiscus enchiladas.
Location: 152 Tooley St, London SE1 2TU
16. Padella
Savour fresh pasta, made by hand each morning on-site, at Padella, next to Borough Market. Try the silky pici cacio e pepe, a speciality from Rome, or go for the classic and indulgent fettuccine carbonara with a twist. The good-value wine on tap is perfect for sharing.
Location: 6 Southwark St, London SE1 1TQ
Restaurants at The Shard
17. Ting

Ting at the Shangri-La is perfect for a special occasion or those days when you just feel like treating yourself. This dynamic dining experience serves Asian-inspired, modern dishes alongside an award-winning wine list. Or you can opt to visit during the day to savour their delightful afternoon tea as you enjoy unrivalled vistas of London Bridge.
Location: Level 35, 31 St Thomas St, London SE1 9QU
18. Oblix
Soak up breathtaking views of the London skyline from The Shard's 32nd floor at Oblix. The sophisticated restaurant focuses on offering the best of British and European produce, cooked straight on its charcoal grill and wood-fired oven.
Location: 31 St Thomas St, London SE1 9RY
19. Hutong
Or, taste the flavours of northern China at the panoramic Hutong. Either pick from the extensive a la carte or try the signature lunch or dinner to sample some of its best dishes.
Location: 33 St Thomas St, London SE1 9RY
20. Aqua Shard
Alternatively, treat yourself to refined British cuisine and cocktails at Aqua Shard's spectacular three-storey atrium bar on the 31st floor.
Location: Level 31, The Shard, 31 St Thomas St, London SE1 9RY