Complete with grand tombs and striking sculptures, London's park-like cemeteries are places to pay your respects to famous names throughout history. There are plenty of other peaceful spaces in London, from ancient temples to secluded gardens. Or you can make the most of the capital's stunning outdoors in its beautiful parks.
1. Highgate Cemetery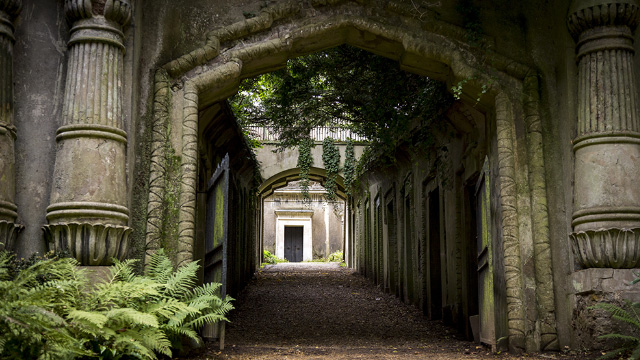 Walk among ivy-covered Victorian-era tombstones at
Highgate Cemetery
in north London. One of the city's "Magnificent Seven" cemeteries, Highgate is home to ornate tombs and mausoleums, especially along its grand Egyptian Avenue in the West Cemetery. Karl Marx is buried in the East Cemetery, marked by a huge bronze bust.
2. Brompton Cemetery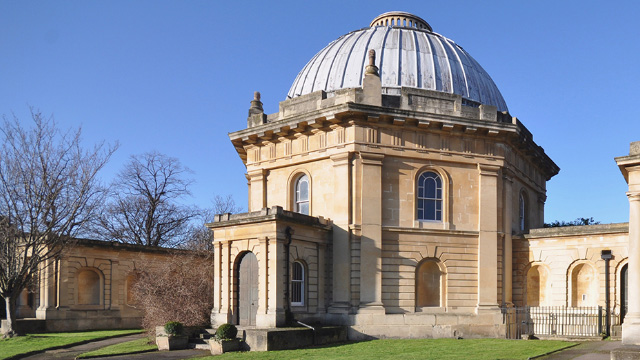 Explore more than 35,000 monuments on the grounds of west London's
Brompton Cemetery
. Elaborate gravestones and family vaults flank a central avenue, which leads to a chapel modelled after St Peter's Basilica in Rome.
3. Kensal Green Cemetery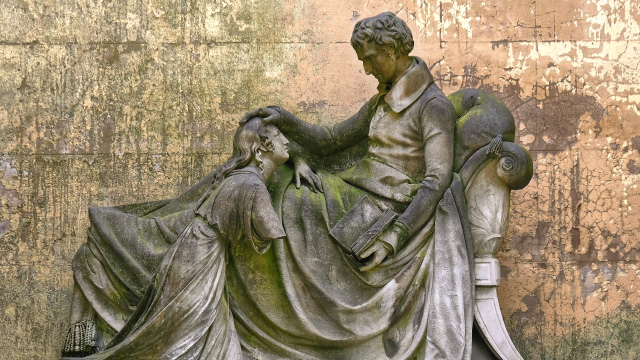 Opened in 1833,
Kensal Green
was the first of London's "Magnificent Seven" cemeteries, based on Père Lachaise Cemetery in Paris. Kensal Green is the final resting place of more than 250,000 people, including nobility and members of the royal family. It's also a nature conservation area with abundant birdlife and several regionally rare plants.
4. Abney Park Cemetery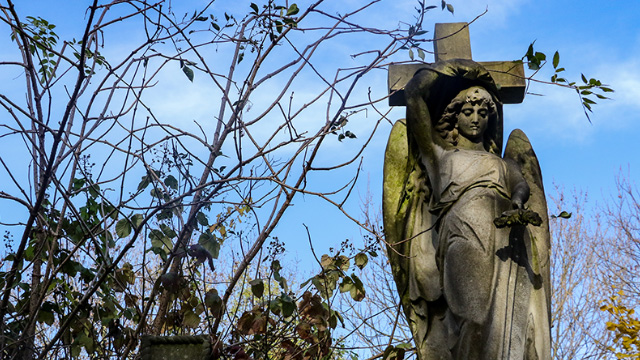 Step into the quiet of
Abney Park Cemetery
, just off busy Stoke Newington High Street in north London. Mossy, vine-cloaked headstones from the 19th century sit below towering trees, giving this space a forest-like feel.
5. West Norwood Cemetery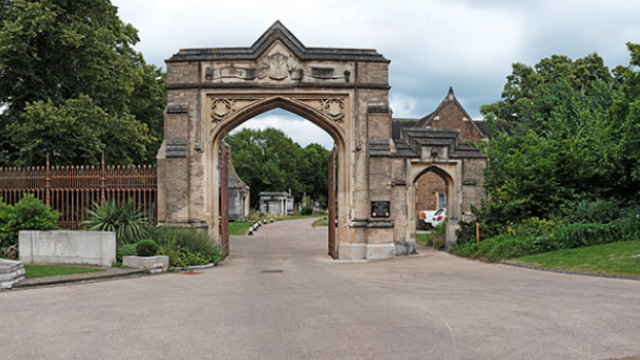 Wander through the world's first Gothic-style cemetery in
West Norwood
. The ornamented tombs include many notable names, such as Mrs Beeton of cookery book fame and Henry Tate, the sugar merchant who started the Tate Gallery.
6. Nunhead Cemetery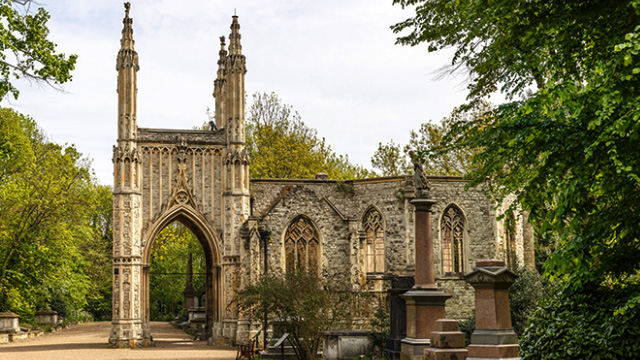 Spot chirping birds and other wildlife around the graves at
Nunhead Cemetery
, a local nature reserve. Decorated mausoleums and headstones indicate the burial spots of Victorian-era inventors, engineers, actors, singers and musicians. Head to the viewpoint on the cemetery's western side for a look at St Paul's Cathedral in the distance.
7. Tower Hamlets Cemetery Park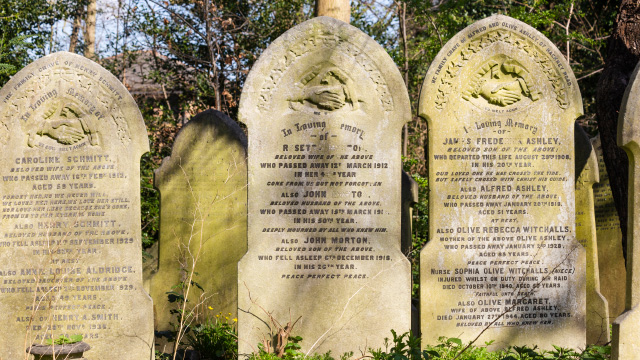 Enjoy a woodland walk in the city at
Tower Hamlets Cemetery Park
in east London. This space closed to burials in 1966 and transformed into an ecology park to preserve plants and wildlife. The park is crisscrossed by walking trails that lead past marble monuments.
8. Golders Green Crematorium
Admire the red-brick Italianate architecture of the
Golders Green Crematorium
, the first in London. The surrounding 12-acre memorial gardens are a tranquil space with many plants and two ponds. The columbaria are the burial place for famous names including psychoanalyst Sigmund Freud and Keith Moon, drummer in The Who.
9. Willesden Jewish Cemetery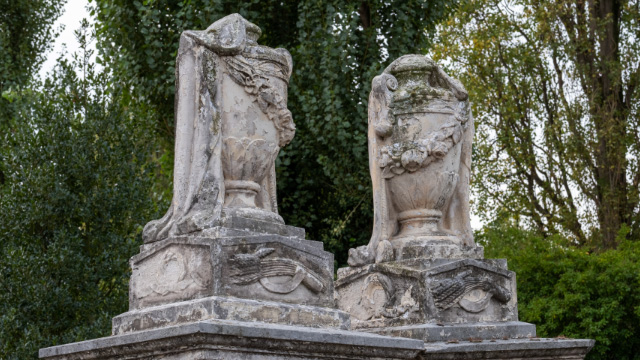 Take a tour of Willesden Jewish Cemetery, a historic 1873 burial ground with almost 30,000 graves in northwest London. In 2020, the cemetery started offering guided walks of the grounds for the first time and created an interactive historical exhibit in its former administration building.
10. Islington and St Pancras Cemetery
Visit the plant-filled grounds of
Islington and St Pancras Cemetery
in north London, which contains more than 1,000 graves of those who died in World War I and World War II. The cemetery offers self-guided maps to learn about the Commonwealth servicemen and servicewomen buried here.
11. St Pancras Old Churchyard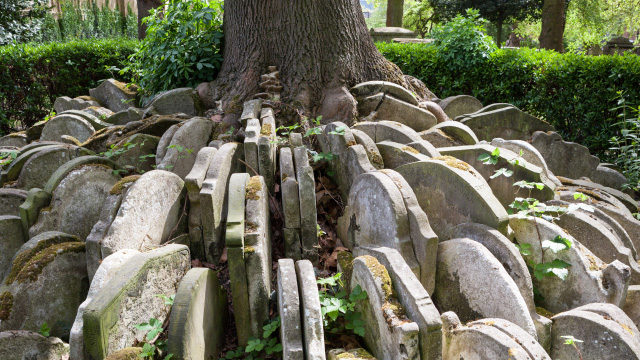 Keep an eye out for well-known names in the burial ground of St Pancras Old Churchyard, one of the oldest cemeteries in central London. Architect Sir John Soane and writer Mary Wollstonecraft were buried here, but one of the cemetery's most famous landmarks is the Hardy Tree, which is tightly encircled by rows of thin gravestones.
12. Bunhill Fields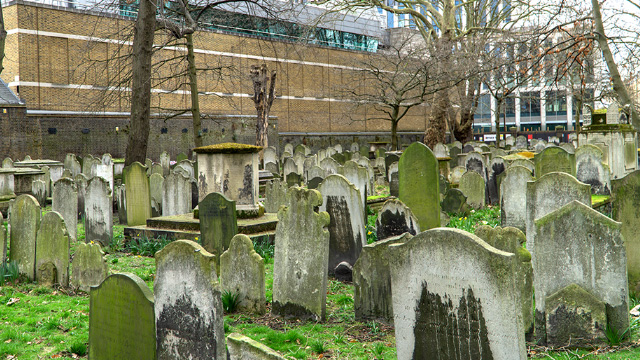 Make a point to pause in
Bunhill Fields
, a small quiet space just south of the busy Old Street roundabout. This unassuming cemetery, often passed through quickly by commuters without a second glance, is the burial place for notable 17th and 18th-century writers including Daniel Defoe, William Blake and John Bunyan.
13. Crossbones Graveyard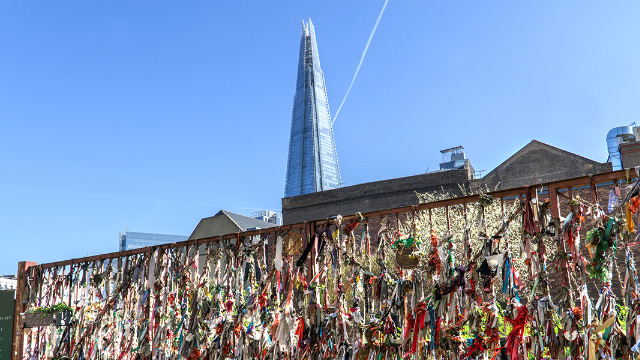 Holding the remains of some 15,000 poor and working-class Londoners, Crossbones Graveyard remembers the "outcast dead" and the medieval sex workers who were not permitted a Christian burial. A monthly evening vigil is held to add to the messages, flowers and colourful ribbons tied to the cemetery's gates.
Explore by category