Farmers' markets in London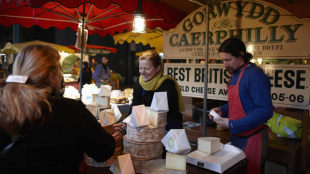 Every week, well-stocked farmers' markets take place all over London, selling everything from cheese to homemade jams.
Farmers' markets are different to ordinary food markets because everything on sale has been grown, reared, baked, caught or produced by the seller.
As well as being a source of quality food, farmers' markets are good for the environment. Everything is produced locally, cutting down on food miles. To trade at a London farmers' market, farms must be within 100 miles (160km) of the M25.
Make the most of the opportunity to speak to stallholders and find out how the produce is grown. They may even have some handy cooking tips or recipe ideas!
Find out about the best farmers' markets in London below, and explore more of London's top markets.