Celebrate the coronation of King Charles III in London and join in with royal London events over the bank holiday weekend.
When is King Charles III's coronation?
The coronation of King Charles III takes place on 6 May at
Westminster Abbey
, where the Archbishop of Canterbury crowns the King and Camilla, the Queen Consort.
Where will the coronation take place?
King Charles III's coronation is to be held at Westminster Abbey in London. The abbey is a Unesco World Heritage Site and has been the location of all British coronations since 1066.
What will happen on the day of King Charles III's coronation?
Before the coronation service, watch King Charles III and Camilla, the Queen Consort make their way from Buckingham Palace to Westminster Abbey in The King's Procession.
A larger procession takes place after the service at Westminster Abbey, where members of the Royal Family accompany the King and Queen Consort on their way back to Buckingham Palace.
The day's ceremonial events finish with a balcony appearance by King Charles III, Camilla, the Queen Consort and members of the Royal Family.
What celebrations mark King Charles III's coronation in London?
London hosts events across the city to celebrate the King's coronation in May. Check out the best events across the capital, including fun activities and official events from the palace.
Official royal events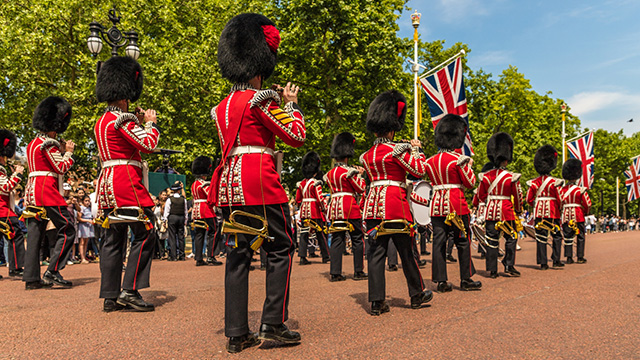 Listen to the spectacular Coronation Concert at Windsor Castle, featuring The Coronation Choir, musical favourites from top orchestras and plenty of star-studded performances. Try to snag free tickets through the public ballot or watch the broadcast live on the BBC. 7 May
Expect to spot some of London's most iconic locations lit up with light projections, drone displays and illuminations as part of Lighting up the Nation during the Coronation Concert. 7 May
Celebrate the King's official birthday with the Trooping the Colour parade, featuring soldiers, horses, musicians and an RAF flypast. 17 Jun
Historic royal locations
Will there be a bank holiday?
A bank holiday marks the historic occasion on 8 May along with celebrations across the capital.
Discover more of royal London and find top royal attractions in the city.
Explore by category