The wide range of galleries in London have an exciting lineup of exhibitions allowing you to get your art fix.
Current exhibitions in London
Get ready to admire amazing artworks with some of these top exhibitions in London.
1. The EY Exhibition: The Making of Rodin at Tate Modern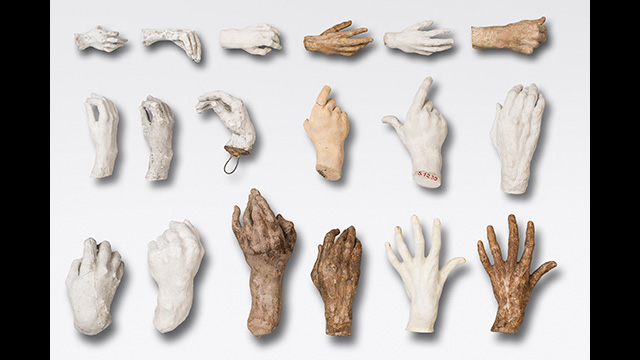 Understand the importance of plaster in Auguste Rodin's art, and discover the ways in which he portrayed the human body broke all the rules. The EY Exhibition: The Making of Rodin explores the artist's works and models during this major Tate Modern exhibition. Until 21 Nov
2. The Art of Banksy at 50 Earlham Street
Banksy
's iconic street art has long been a mystery, with stencil works popping up in unexpected places. But you can now see many of the unknown artist's works in one place, as the world's largest collection of privately owned Banksys is brought together in
The Art of Banksy
at
50 Earlham Street
,
Seven Dials
.
Until 21 Nov
1. Michelangelo's Sistine Chapel at Cannon Factory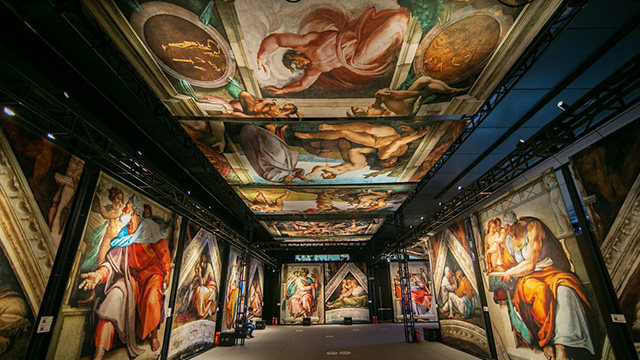 Step into Michelangelo's Sistine Chapel in Tottenham Hale this autumn and winter. Using cutting-edge technology, frescoes from the iconic location are recreated in life-size form, allowing the great artist's masterpiece to be seen from new perspectives by new audiences. Until 2 Jan
2. Poussin and the Dance at the National Gallery
Visit the National Gallery for an epic exhibition of Poussin's works and watch dance come to life with Poussin and the Dance. Showcasing some of the artist's best paintings and drawings, alongside the antique sculpture he studied, the exhibition allows you to witness the 17th-century painter's evolution. Until 2 Jan
3. Summer Exhibition 2021 at the Royal Academy of Arts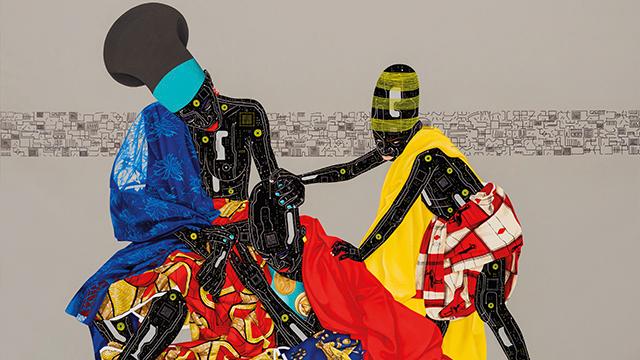 Taking place since 1769, the Royal Academy of Arts' famous Summer Exhibition brings together artwork in all its forms from big names and emerging stars. You can view works by incredible artists, or treat yourself to your very own artwork to take home, all based around the Summer Exhibition 2021 theme "Reclaiming Magic". Until 2 Jan
4. Noguchi at the Barbican Art Gallery
Study sculpture "as a living environment", as the career of Japanese American artist Isamu Noguchi is put into focus with
Noguchi
at the
Barbican Art Gallery
. Tackling environmental, social and spiritual themes, the 150 sculptures, designs and models highlight Noguchi as one of the 20th century's most pioneering artists.
Until 9 Jan
7. Late Constable at the Royal Academy of Arts
Discover a change in direction for one of Britain's most famous artists at the
Royal Academy of Arts
' latest exhibition,
Late Constable
. Learn how, in his later years, John Constable used a more expressive style and a greater use of light and shade that's evident in drawings, sketches and paintings from 1825 until his death in 1837.
Until 13 Feb
8. Beano: The Art of Breaking The Rules at Somerset House
Celebrate one of the world's best-loved comics, as original illustrations meet newly imagined works and immerse experiences at
Beano: The Art of Breaking The Rules
at
Somerset House
. See Dennis the Menace as a 70-year-old, take aim at famous artworks in an interactive catapult game, and much more.
Until 6 Mar
9. Yayoi Kusama: Infinity Mirror Rooms at Tate Modern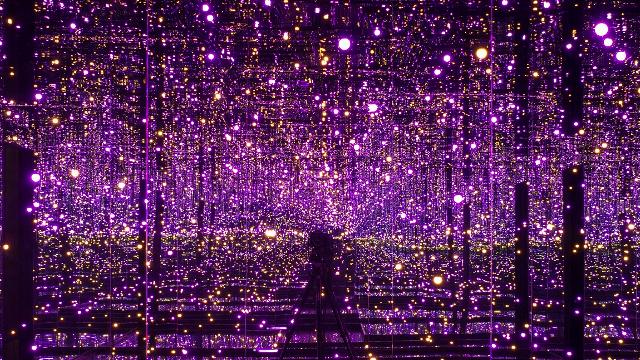 Discover a world of endless reflections inside Yoyoi Kusama's Infinity Mirror Rooms at Tate Modern. Combining 2012 work Infinity Mirrored Room – Filled with the Brilliance of Life, and a Chandelier of Grief, this exhibition offers a mesmerising and immersive glimpse into the mind of the Japanese artist. Until 12 Jun
10. Insight Investment Astronomy Photographer of the Year at the National Maritime Museum
Gaze at out-of-this-world imagery from space photographers, as the Insight Investment Astronomy Photographer of the Year exhibition comes back into orbit at the National Maritime Museum. This stellar display features more than 100 of the best entries to this annual competition, including Milky Way and aurorae images. Until 7 Aug
London exhibitions in 2021 to book ahead
6. Hogarth and Europe at Tate Britain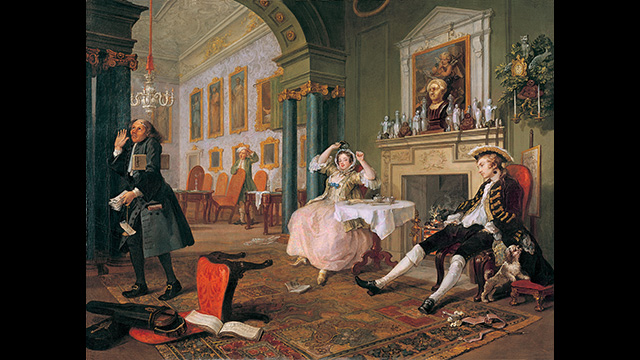 Step into the 18th century, as you compare more than 60 William Hogarth artworks with European painters of the day in Hogarth and Europe at Tate Britain. Study the iconic Gin Lane painting alongside works by the likes of Jean-Siméon Chardin, Pietro Longhi and Cornelis Troost, who each depicted everyday life in their cities. Until 20 Mar
5. The Credit Suisse Exhibition – Dürer's Journeys: Travels of a Renaissance Artist at the National Gallery
Go on a journey across Europe through Albrecht Dürer's works at the National Gallery this winter. The German Renaissance artist travelled widely, from the Alps to Italy, the Netherlands and beyond – learn how his work and style was influenced by these travels in works such as Madonna and Child, which is displayed for the first time in the UK. Until 27 Feb
Lubaina Himid at Tate Modern
Discover theatre-inspired works by Turner-Prize-winning artist Lubaina Himid in an immersive exhibition at Tate Modern. Drawing on her background in theatre design, Himid creates different scenes for her figurative painting, which highlight often overlooked aspects of society and history. 25 Nov-3 Jul
Explore by category