From the twinkling Oxford Street Christmas lights to the beautiful decorations illuminating Covent Garden and the shimmering spirits on Regent Street, don't miss the chance to see the world-famous London Christmas lights as the city is gloriously decked out for Christmas. Hop on a Christmas lights bus tour to see all the best sparkles in the city.
The locations below host some of London's top Christmas lights, which you can usually see from November until early January – check back soon for more confirmed displays to enjoy across the city during Christmas 2021.
Christmas at Kew
Explore a twinkling trail with Christmas at Kew. Look out for dazzling immersive installations including botanical-themed projections and trees bathed in light, before taking a selfie surrounded by thousands of pea lights and spotting a spectacular finale light up the Palm House. Finish off the enchanting experience with a warming mulled wine and mince pies this Christmas in London. 17 Nov-9 Jan
Carnaby Christmas lights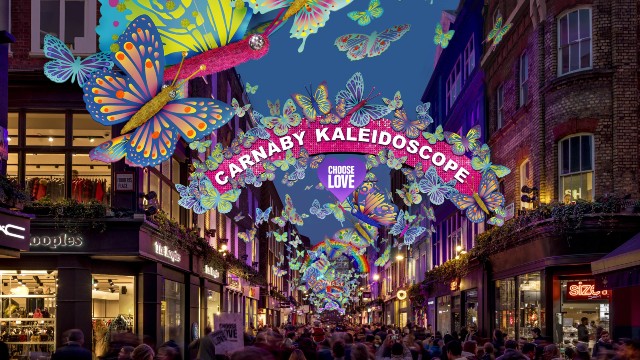 Smile at every step you make around one of the capital's coolest areas, as it glows with a themed display each year as part of Carnaby Christmas lights. This year, you can spot sparkling neon butterflies fluttering above Carnaby Street, which is filled with independent boutiques. Make sure to visit the festive Choose Love pop-up shop – perfect for some Christmas shopping! From 4 Nov
South Bank Christmas lights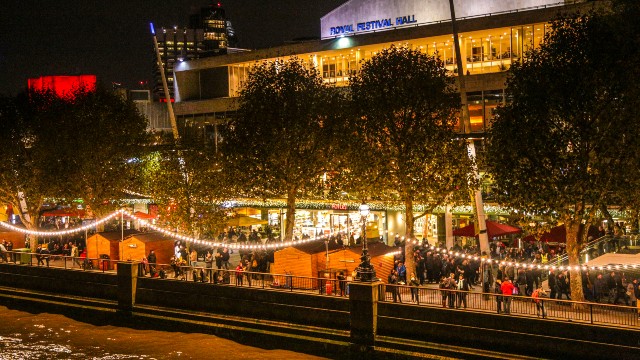 Stroll along the South Bank to see the riverside area beautifully illuminated with garlands of glittering Christmas lights and artworks as part the outdoor Winter Light exhibition. Admire the art installations with a mulled wine in hand, browse the wooden chalets at Southbank Centre's Winter Market (4 Nov-24 Dec) or catch a performance of Circus 1903. 4 Nov-9 Jan
Covent Garden Christmas lights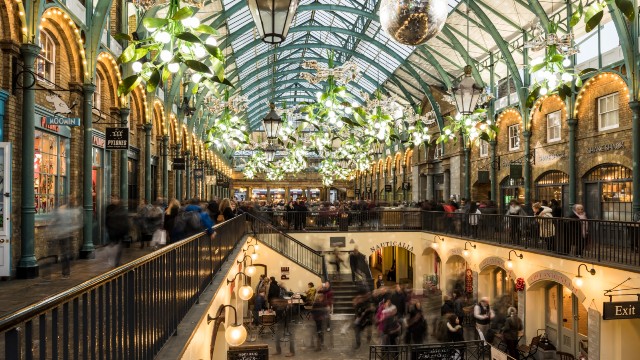 Amble around the cobbled streets of Covent Garden, which are transformed into a winter wonderland over the festive period. Marvel at mistletoe chandeliers, a magnificent Christmas tree, giant nutcrackers and more than 115,000 twinkling Covent Garden Christmas lights illuminating the 19th-century Piazza. You might even spot some flurries of snow! From 9 Nov
Marylebone Village lights
Admire the twinkling lights and garlands of Marylebone Village, as this chic area buckles up for the annual Merry Marylebone festivities. Spot famous names clad in seasonal displays, and get ready to grab special discounts throughout the magical season. From 10 Nov
Mayfair and Belgravia Christmas lights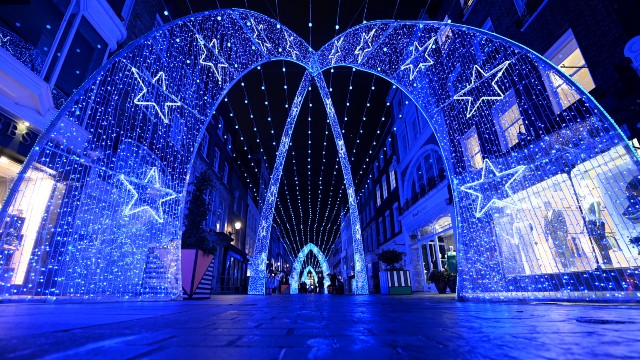 Gaze at the picture-pretty white lights decorating the boutique-filled Belgravia area, before checking out The Gingerbread City on Motcomb Street (4 Dec-9 Jan) – a delectable city of gingerbread. You can also usually spot the iconic arch illuminating South Molton Street, before indulging in some Christmas shopping. From 10 Nov
Regent Street Christmas lights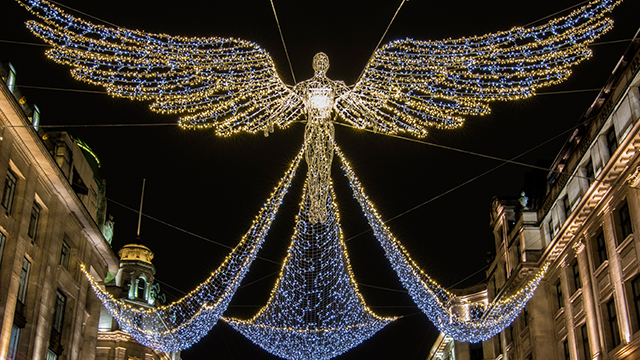 Experience the magic of Christmas as the beautiful Regent Street Christmas lights set the West End alight with a seasonal sparkle. See the return of the magnificent spirits glittering above the entire length of Regent Street and its surrounding streets, while hunting for luxury gifts and London Christmas ornaments. 12 Nov-2 Jan
St James's and Piccadilly Christmas lights
Take a stroll around St James's and Piccadilly to discover picture-pretty Christmas lights inspired by the statue of Anteros – the Greek god of requited love. Afterwards, you can enjoy more seasonal fun by popping into Fortnum & Mason for a spot of Christmas shopping or sipping on a festive tipple at The Ritz. 12 Nov-2 Jan
Seven Dials Christmas lights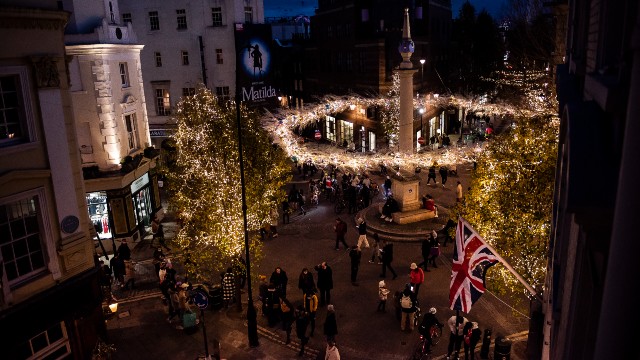 Head to Seven Dials' pretty cobbled streets for its annual Christmas lights display. Full of hidden gems, quirky boutiques and eclectic eateries, the area's festive installation sees twinkling white twigs with pink and silver baubles weaved throughout around the famous roundabout. From 18 Nov
Oxford Street Christmas lights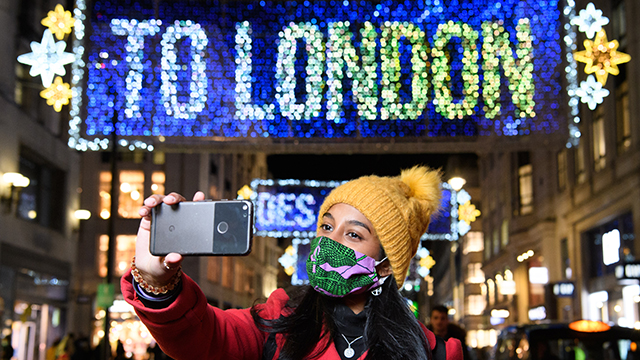 Be amazed by some of the most spectacular Christmas lights in London and admire the seasonal window displays lining Oxford Street. Last year's Oxford Street Christmas lights display brought 27 dazzling curtains of light made up of more than 200,000 twinkling bulbs, which showcased a heartwarming poem to celebrate the nation's heroes and show gratitude for their service throughout 2020. From 12 Nov
Bond Street Christmas lights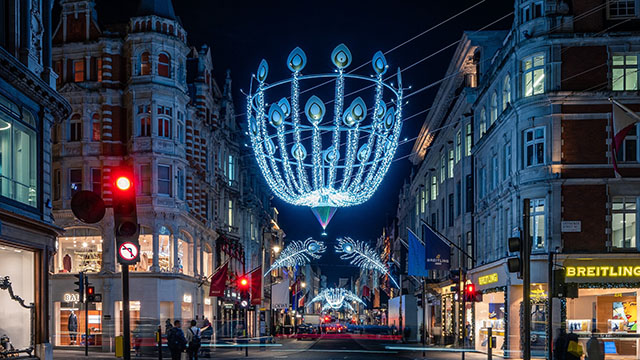 See Bond Street, one of the capital's most luxurious shopping districts, garlanded with spectacular London Christmas lights. Once you've admired the glow of the Bond Street Christmas lights, look out for the exclusive stores draped in grand decorations and window displays dressed in their festive finest. From 12 Nov
Leicester Square Christmas lights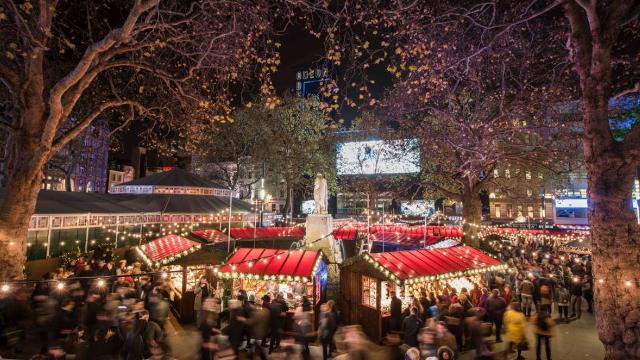 Feel the Christmas twinkle at
Leicester Square
as you shop for your special ones this winter. With large lit up stars stretched along the area's streets, you're sure to feel joyful and cosy over the festive season. Make sure to also drop by
Christmas in Leicester Square
to browse the wooden chalets for gifts or catch a show in the Spiegeltent.
12 Nov-9 Jan
Shard Lights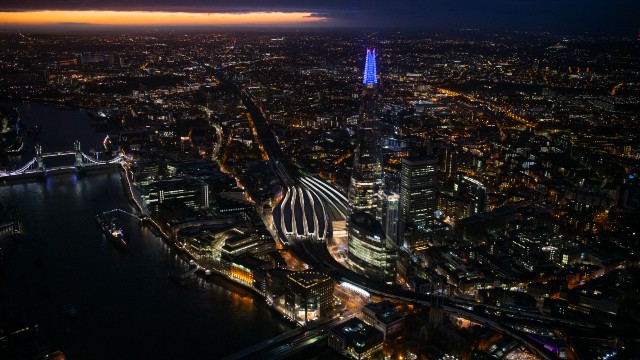 Watch the London skyline light up as The Shard puts on its annual Christmas lights show. In 2020, the Shard Lights display payed tribute to the nation's NHS workers, beaming a massive "thank you" in Morse code into wintry skies, during the evening light displays. There's also usually a special display on New Year's Eve celebrating the start of the new year! From 1 Dec
King's Cross and Coal Drops Yard Christmas lights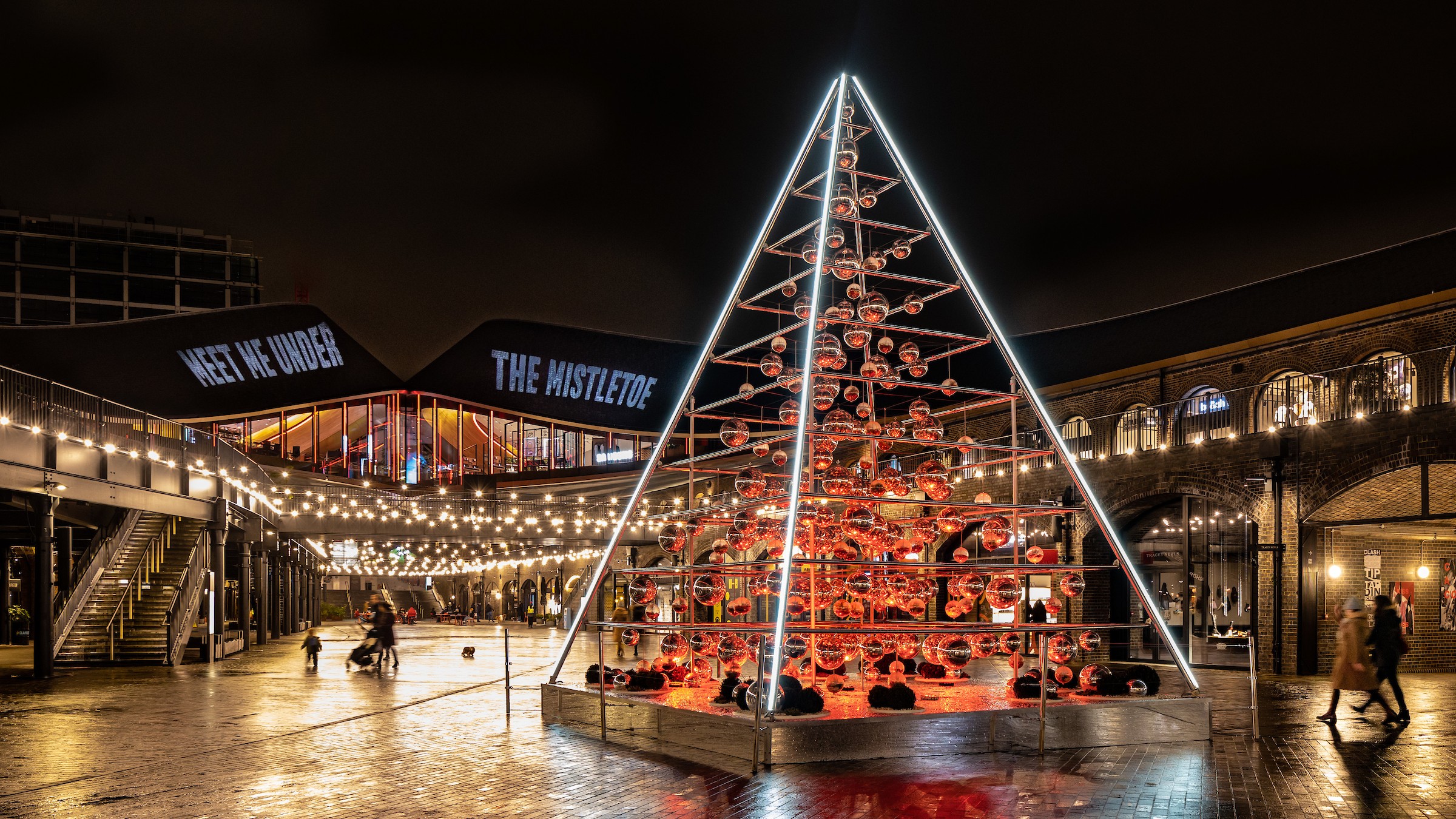 Visit the area while it's bedazzled with "traditionally untraditional" installations for Christmas in London. Previously, you could pose underneath the colourful lights and explore a sculptural festive forest on Granary Square, spot a giant terrarium tree in Coal Drops Yard and check out the interactive tree at Battle Bridge Place. Then, shop for gifts from the area's trendy stores or join a festive craft workshop. 2021 TBC
Download the Visit London App to map your way around the festive lights.
Be sure to explore the capital's picture-perfect Christmas markets and find plenty more festive things to do this Christmas in London.
Explore by category