Look out for exciting things to do in London by month, find the best things to do in London all year round and discover the best events to attend in London this weekend.
Whenever you visit, don't miss the iconic Changing the Guard ceremony at Buckingham Palace, which takes place throughout the year.
January
New Year's Day
Start the new year off right by spending New Year's Day in London. Check out the January sales at London's best department stores, listen to a concert at a church or cathedral, or get caught up on culture at a museum exhibition. 1 Jan
London New Year's Day Parade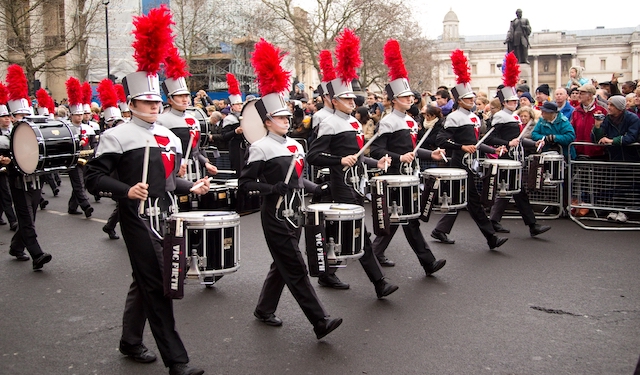 Ring in the new year at the annual London New Year's Day Parade in central London. Thousands of performers from around the world, including dancers, marching bands and acrobats, parade through the centre of the capital during this huge confetti-filled event. 1 Jan
London Borough of Culture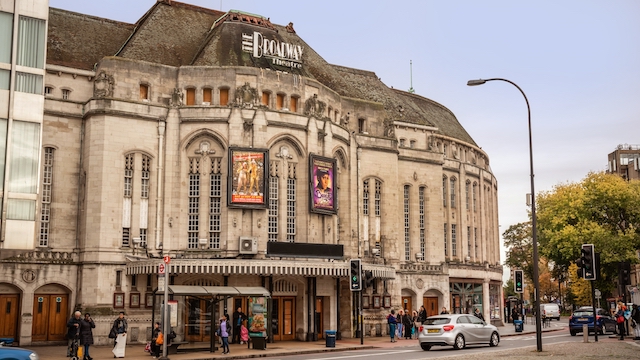 Pick from a huge list of events taking place during the full-year programme of activities for The Mayor's London Borough of Culture. Lewisham is the London Borough of Culture in 2022. Enjoy 12 months of events including new public artworks, live music and theatre performances around this south-east London neighbourhood. 1 Jan-31 Dec
Burns Night
Mark the birthday of Scottish poet Robert Burns with literature readings, Scottish-themed dinners, traditional dancing and a toast on Burns Night in London. Born in 1759, Robert Burns became a national icon of Scotland, and many London restaurants and bars hold Burns Night events, serving up suppers of haggis, neeps and tatties with a wee dram of Scottish whisky. 25 Jan
Chinese New Year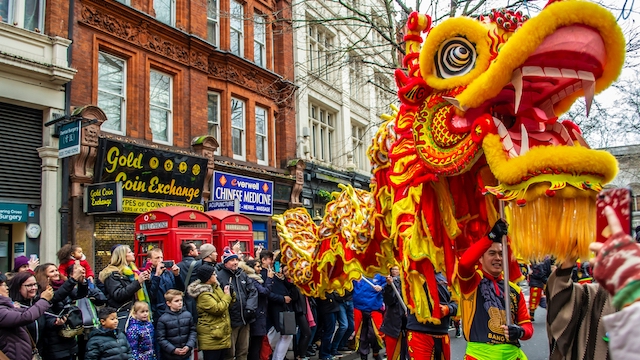 Celebrate Chinese New Year in London, the largest CNY events outside Asia. Hundreds of thousands of people join London's Chinese New Year events which include a parade through London and a one-day festival in Trafalgar Square and across the West End. Jan TBC
Find more January events in London
February
February half-term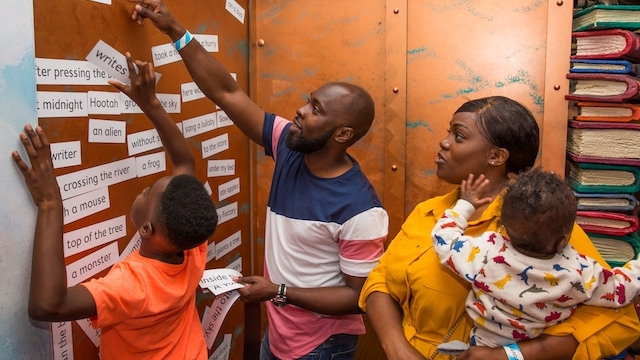 Entertain the little ones with a huge range of activities and events around London during the February half-term school break. Take the kids to one of London's many museums for hands-on interactive activities or enjoy a meal at a family-friendly restaurant. 11-26 Feb
Valentine's Day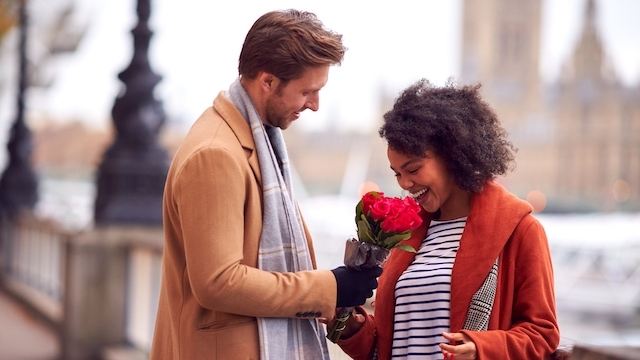 Find the capital's romantic side by celebrating Valentine's Day in London. Start making plans with your sweetie with these things to do on Valentine's Day in London, including restaurants, tours, attractions and after-dark events. 14 Feb
London Fashion Week
See the latest styles on the catwalk at London Fashion Week. Hear about the latest trends from experts and discover new pieces by British and international designers. Feb TBC
Pancake Day
Feast on a mountain of pancakes on Shrove Tuesday and watch runners flip their pans at a charity Pancake Day race in London. Top celebrations include pancakes races at Greenwich Market, Borough Market and Leadenhall Market. 21 Feb
Find more February events in London
March
St Patrick's Day
Catch the colourful St Patrick's Day Parade through central London and then watch live performances from famous Irish musicians, as well rising stars and special guests, in Trafalgar Square. Check out the market of craft stalls, as well as traditional and modern Irish food. Mar TBC
Mother's Day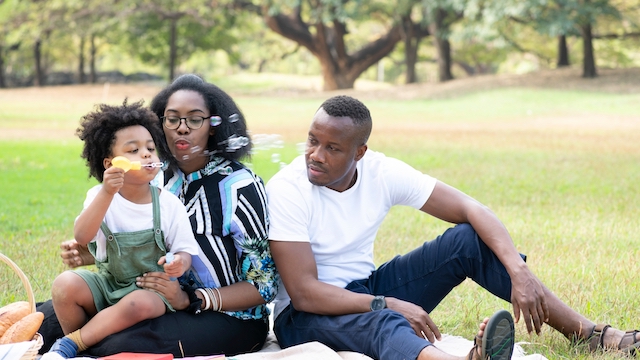 Shower your mum with love on Mother's Day and find the best things to do in London on Mother's Day to treat her to a day out in the capital, including award-winning restaurants, West End theatre shows and colourfully blooming London gardens. 19 Mar
Oxford and Cambridge Boat Race
Cheer on the rowers on the river Thames at the annual Oxford and Cambridge Boat Race, one of the world's oldest sporting events. The Boat Race runs between Putney and Mortlake, and spectators line the banks of the river for this popular event. 26 Mar
Find more March events in London
April
London Games Festival
Get your game on at the London Games Festival, one of the biggest events of its kind in the world. Jump into the festival's hands-on activities and check out the latest in the culture and business of the gaming world. Apr TBC
The Passion of Jesus at Trafalgar Square
Watch a biblical story performed by 100 actors at the annual staging of The Passion of Jesus in Trafalgar Square which takes place on Good Friday. The two 90-minute performances are free and attract thousands of visitors to witness the scene in central London. 7 Apr
Easter
Spend the long Easter weekend in London enjoying egg hunts, themed attractions, Easter-specific performances or a Sunday lunch. Good Friday and Easter Monday are bank holidays in the UK. 9 Apr
Vaisakhi Festival in Trafalgar Square
Mark the start of the Sikh New Year with live music, art displays, family activities and crafts at the Vaisakhi Festival in Trafalgar Square. The festival marks the day in 1699 that Guru Gobind Singh created the Khalsa order, and the events are open to all. Apr TBC
Eid Festival in London
Join in the celebrations at the end of the Muslim holy month of Ramadan at the Eid Festival in Trafalgar Square. Taste food from various stalls, see displays of work by Muslim artists and watch live music on the main stage. Apr TBC
Find more April events in London
May
Early May bank holiday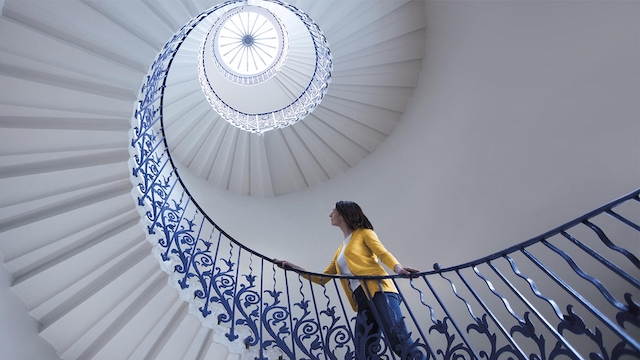 Take an extra day to explore all that London has to offer during the early May bank holiday weekend which occurs on the first Monday of May. Book in to enjoy a theatre performance, a museum exhibition or family-friendly activities. 29 Apr-1 May
Chelsea Flower Show
Admire the beautiful flowers, clever garden designs and amazing floral displays at the prestigious Chelsea Flower Show. Walk through the bloom-filled grounds of the Royal Hospital Chelsea to see the space transformed in a colourful spring burst. May TBC
May half-term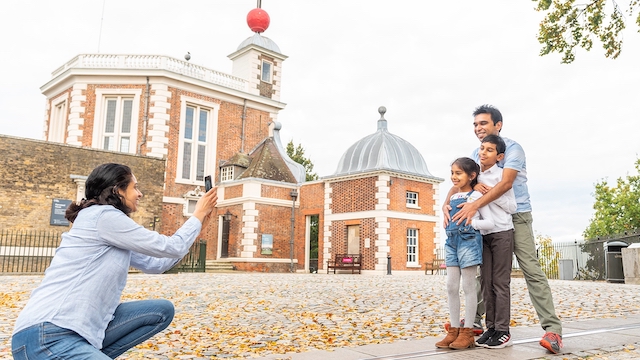 Find activities for the whole family during the May half-term. Enjoy a full week of spring fun and interactive events at London's top attractions and outdoor parks and playgrounds. 27 May-4 Jun
Spring bank holiday weekend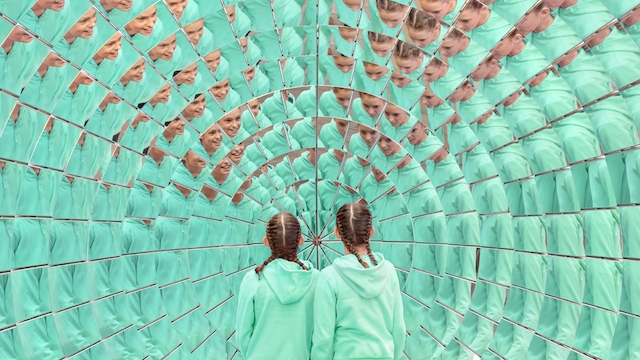 Soak up the sun during the spring bank holiday weekend in London which occurs on the last Monday of the month. Meet up with friends at one of London's parks, shop for a summer wardrobe at one of the capital's best department stores or visit a top London attraction. 27-29 May
Find more May events in London
June
Trooping the Colour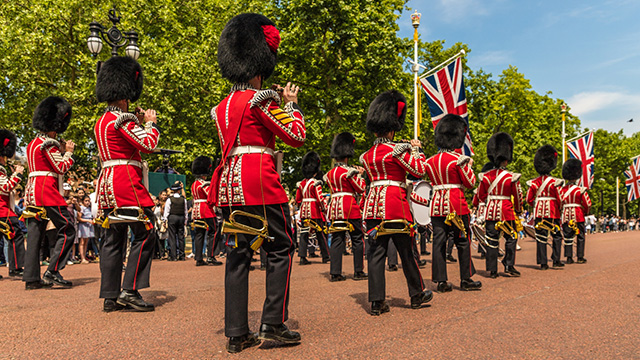 Celebrate the monarch's official birthday with pomp and pageantry during Trooping the Colour at Horse Guards Parade. Hundreds of officers, horses and musicians in ceremonial uniforms and the King attend this important event. Look out for the advance online ballot to try to secure seated tickets. Trooping the Colour took place to mark Queen Elizabeth II's official birthday each June, however it is yet to be confirmed when the parade will take place to mark King Charles III's birthday. TBC
Open Garden Squares Weekend
Discover hidden green spaces, peaceful spots and gardens of celebrities that are accessible to the public for just one weekend during Open Garden Squares Weekend. Enter the ballot to be one of the select few to tour the gardens at 10 Downing Street. 10-11 Jun
Taste of London
Experience the best of London's incredible dining scene during the five-day Taste of London festival that takes place in Regent's Park. Restaurants from around the capital set up stalls to show off their top dishes, and you can sample the mouthwatering selection. Jun TBC
Father's Day
Take dad out for a day out around town for Father's Day in London. Head to the theatre, a sporting event or one of London's big-name attractions, or enjoy a quiet stroll through a park or Kew Gardens. 18 Jun
West End LIVE
See the best of London's West End musicals and theatre for free during West End LIVE in Trafalgar Square. Theatre fans head to the square for sing-alongs to favourite musicals and must-see new shows. Jun TBC
Find more June events in London
July
Pride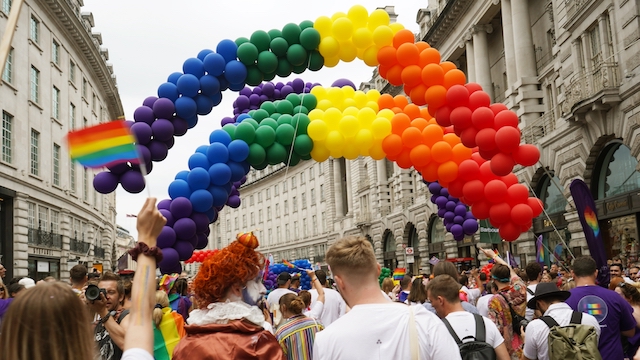 Join revellers to celebrate the capital's LGBTQ+ community with a month-long series of events that culminates in a parade through central London during Pride. Check out the full programme of events which includes theatre, film screenings, parties, art installations and activities across the capital. Jul TBC
Wimbledon Lawn Tennis Championships
Root for the pros at Wimbledon, one of the four annual Grand Slam tennis tournaments that take place around the world. Soak up the lively atmosphere, best enjoyed with strawberries and cream, for two weeks of tennis matches in south-west London. 3-16 Jul
Hampton Court Palace Garden Festival
Enjoy the beautiful blooms of the Hampton Court Palace Garden Festival, one of the largest flower shows in the world, inside the stunning grounds of this historic site. See innovative show gardens and learn how to create your own piece of paradise at home. Jul TBC
BBC Proms
Experience one of the top music events in London, and the biggest classical music festival on the planet, with fun and affordable concerts at the Royal Albert Hall and across the city. Each year, the BBC Proms hosts two months of concerts over the summer, aiming to bring the finest classical music to as many people as possible at affordable prices and in an informal atmosphere. 15 Jul-10 Sep
Buckingham Palace Summer Opening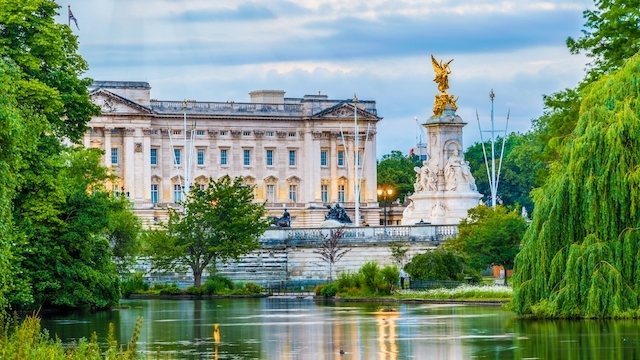 Plan your trip to London to coincide with the annual Buckingham Palace summer opening and tour. Each summer, visitors can see how royalty lives by touring the rooms of one of the world's most famous residences. 22 Jul-2 Oct
Summer school holidays
Enjoy some family fun during the summer school holidays in London. Make the most of the break with exciting family events, theatre shows, summer festivals and top attractions for little ones and grownups alike.
22 Jul-4 Sep
Find more July events in London
August
The Hundred
Watch big-name cricket players take the pitch during The Hundred at Kia Oval and Lord's Cricket Ground. Each team gets 100 balls, and the team that gets the most runs wins. The matches are family-friendly and provide a great day out for all. 3 Aug-3 Sep
Greenwich+Docklands International Festival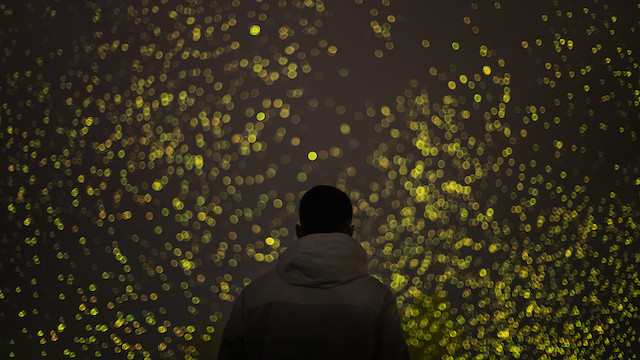 Catch dozens of free art installations and live performances ranging from acrobatics and dance to theatre and music at the Greenwich+Docklands International Festival. East and south-east London gets a boost of invigorating energy during this festival which stages artistic and cultural shows across these neighbourhoods. 26 Aug-11 Sep
Notting Hill Carnival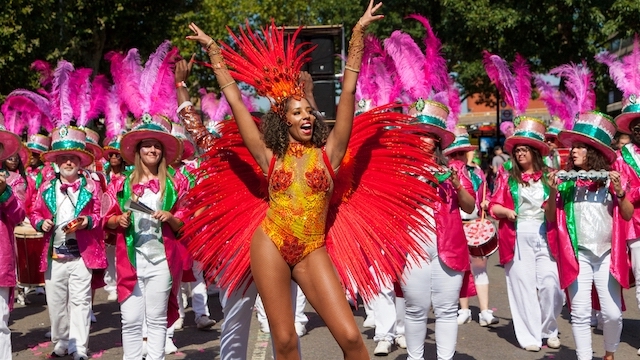 Groove to the beat at Notting Hill Carnival, Europe's largest street festival. Enjoy sound systems, a vibrant parade full of drum bands and sparkly costumes, street food stalls and more over the August bank holiday weekend. 27-29 Aug
August bank holiday weekend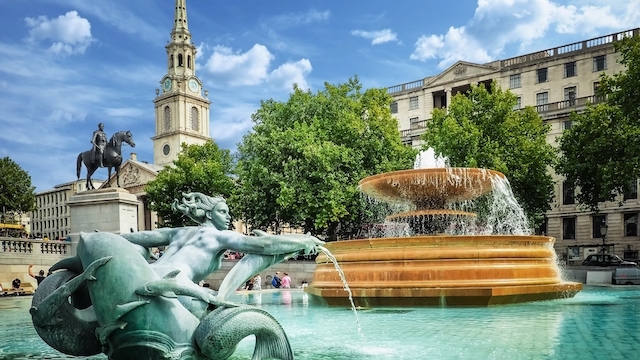 Make the most of summer during the August bank holiday weekend. London is filled with festivals, street parades, live performances and lush parks so you can enjoy the great outdoors in the city. 27-29 Aug
Find more August events in London
September
Totally Thames
Celebrate London's biggest river at the month-long Totally Thames festival. Get to know the Thames through films, art installations, live performances and guided walks. 1-30 Sep
Open House London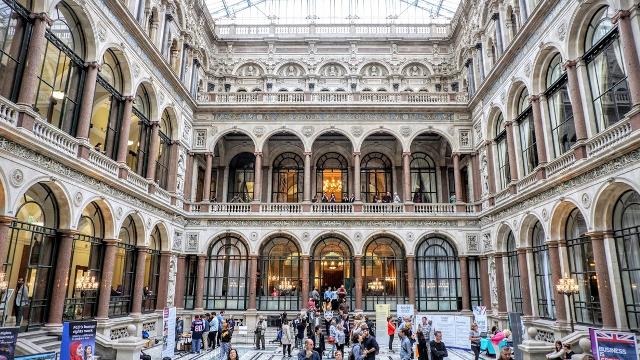 Explore buildings not usually open to the public during Open House London. Discover hidden secrets of the capital as you peek inside some of the most iconic buildings and architecturally unique spaces around the city for free. 8-21 Sep
London Fashion Week
Check out catwalk fashion from British and international designers as well as graduate showcase exhibitions at London Fashion Week's September edition. See shows of womenswear, menswear and accessories, plus talks from leading fashion companies. 15-20 Sep
London Design Festival
Watch London turn into a giant gallery during the London Design Festival, as dynamic and innovative projects pop up across the capital. Explore a range of creative installations and join events that celebrate contemporary design. 17-25 Sep
Find more September events in London
October
Black History Month
Take part in the citywide celebration of Black communities with epic events across London during Black History Month. Discover cultural events and learn about Black history in London and beyond. 1-31 Oct
NFL London Games
Cheer on your favourite American football team during a lineup of action-packed games as the NFL London Games return to the capital. Watch three games over the month, two of which are played at London's Tottenham Hotspur Stadium, the first purpose-built NFL stadium outside of the US. 2, 9 and 30 Oct
London Marathon
Run, walk or cheer on participants from the sidelines during the London Marathon. Join thousands of runners and spectators on the streets of the capital at this annual event that's a sporting institution in London. 2 Oct
Diwali on Trafalgar Square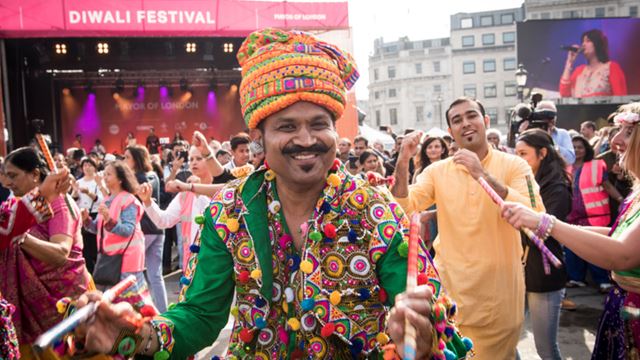 Celebrate Diwali, the festival of lights, with lively stage performances and cultural activities at this free annual event in Trafalgar Square. The festival includes dance workshops, yoga and meditation sessions, and a children's zone. 9 Oct
Frieze art fairs
Admire beautiful works at Frieze London and Frieze Masters, major events on the capital's art calendar. View, browse and buy world-class art from the best international galleries in the beautiful surroundings of Regent's Park. 12-16 Oct
October half-term
Find events and activities across London to keep the kids entertained during the October half-term school break. Check out London's best family-friendly attractions, kid-specific museum exhibitions and children's theatre performances. 15-30 Oct
Rugby League World Cup
Cheer on your favourite Rugby League national teams as they go head to head in the Rugby League World Cup. The matches take place across England, with London hosting the semi-finals and three games of the Wheelchair Tournament. 15 Oct-19 Nov
Halloween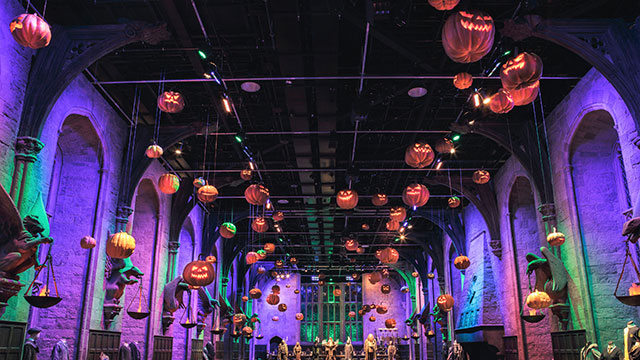 Celebrate the spooky season in London this Halloween. Check out themed eerie attractions in the city, come face to face with London's haunted history, and take a ghost walk or bus ride around the capital. 31 Oct
Find more October events in London
November
Bonfire Night
Remember remember the fifth of November with impressive fireworks displays around London for Bonfire Night. Some parks put on bonfires, funfairs and fireworks that light up the cold winter night. 5 Nov
Remembrance Day
Wear a poppy and commemorate those who lost their lives in war on Remembrance Day. Two minutes of silence are observed across the city at 11am, and a remembrance service and parade take place along Whitehall on the Sunday closest to Remembrance Day. 11-13 Nov
London Jazz Festival
Enjoy spectacular live performances in venues across London as the city grooves to all things jazz during the EFG London Jazz Festival. Each year, the festival plays host to 10 days of performances, bringing together new talent and world-renowned jazz figures. 11-20 Nov
Lord Mayor's Show
Catch an elaborate parade that features dancers, horses, military marching bands and more at the Lord Mayor's Show. Follow this 800-year-old tradition and celebrate the new Lord Mayor with a mix of modern festivities with traditional pageantry, as more than 500,000 people line the route to watch the colourful parade travel across the City of London. 12 Nov
Hogwarts in the Snow
Get into the festive spirit with Hogwarts in the Snow, a self-guided walking tour around the iconic Harry Potter film sets at London Warner Bros. Studio Tour London that are magically transformed for the winter season. 12 Nov-15 Jan
Southall Festival of Lights
Watch as lit-up floats, joyful dancers and live performances take over the streets of Southall in west London for the Southall Festival of Lights. This Diwali-inspired night carnival travels in a parade of paper lanterns, fire performers and illuminated umbrellas. 14 Nov
Christmas at Kew
Be dazzled by twinkling lights on an after-dark stroll around Kew Gardens. Thousands of lights illuminate the lovely grounds with immersive displays and holiday cheer during Christmas at Kew. 16 Nov-3 Jan
Winter Wonderland
Get ready for the ultimate festive experience this Christmas at Winter Wonderland in Hyde Park. Enjoy exciting fairground rides, take a spin on the ice skating rink and shop for gingerbread and more at the Christmas market. 18 Nov-2 Jan
FIFA World Cup
Prepare to cheer on your team during the 22nd FIFA World Cup. Catch the game on big screens at a London sports bar, soak up the sporty atmosphere at Stamford Bridge's Fan Zone (25 Nov), tuck into street food while watching the action at Design District Canteen or grab a table at Skylight's huge Pitchside. 20 Nov-18 Dec
Find more November events in London
December
Christmas events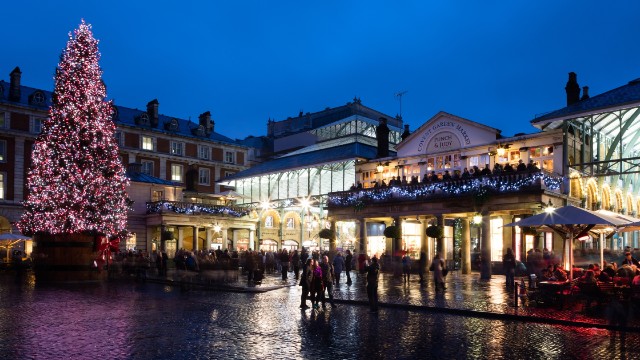 Feel the capital's festive spirit all month long during Christmas in London. See fantastic light displays, watch a seasonal performance and go ice skating at outdoor rinks at famous landmarks throughout December. 1-31 Dec
Christmas tree and carols in Trafalgar Square
Admire the famous Trafalgar Square Christmas tree sparkling with hundreds of lights and sing along to festive carols (5-23 Dec) around the tree during the countdown to Christmas. From 1 Dec
Christmas Eve
Finish your Christmas shopping and catch a pantomime on Christmas Eve in London. Invite friends and family for a festive lights tour, book tickets for a musical or enjoy carols at a cathedral. 24 Dec
Christmas Day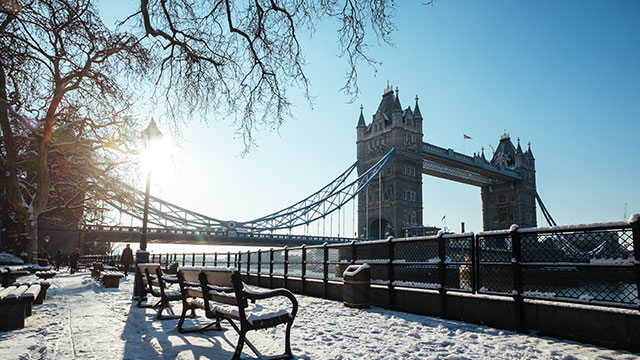 Savor the quiet of the capital by exploring London on Christmas Day. Watch the Peter Pan Cup swim in Hyde Park, before tucking into Christmas dinner at a festive pub. 25 Dec
New Year's Eve
Say goodbye to 2022 by celebrating New Year's Eve in London. Meet with friends for a big night out, catch a year-end theatre show or live music performance, or take a cruise on the river Thames. 31 Dec
New Year's Eve Fireworks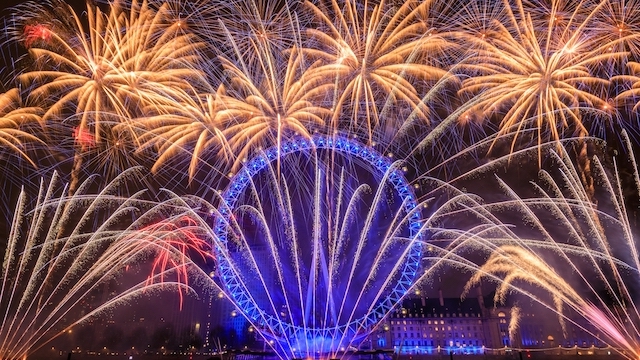 See off the year with the spectacular London New Year's Eve fireworks display, an event televised around the world. Listen to the clock strike midnight as Big Ben's famous "bongs" ring out at the Houses of Parliament, followed by the UK's biggest annual fireworks display across the river. 31 Dec