Blue Badge London parking
Transport for London provides Blue Badge parking spaces across the capital for drivers with disabilities. These parking spaces are usually marked with a wheelchair sign, and they allow improved accessibility to many areas of London for disabled motorists.
Blue Badge parking spaces often have strict time limits and drop-off restrictions, so check the parking information before leaving your vehicle. The Blue Badge permit is valid only when the holder is driving the vehicle or travelling as a passenger, and it cannot be used if the owner is not present. Your permit and parking clock must be displayed in the front windscreen at all times to avoid a penalty fine.
Blue Badge permits are not available for international visitors. However, overseas travellers may be able to use the European Model Parking Card alongside a registered EU disabled parking permit, with permission from the area's local authority and police.
Blue Badge holders are also exempt from London's Congestion Charge. Visit the TfL website for more information on how to apply for this discount.
Other accessible parking schemes in London
Kensington and Chelsea, the City of London, Westminster and Camden have different rules about using Blue Badges. See Disabled Motoring UK for more information on parking restrictions in these parts of London.
Accessible parking at London attractions
You can find wheelchair-friendly and accessible parking spaces at many of London's top attractions, including:
ZSL London Zoo has accessible parking spaces close to the main entrance.
British Museum has free Blue Badge parking which must be booked in advance.
Tate Modern offers accessible parking spaces for visitors. Book at least 24 hours before your visit.
Imperial War Museum London has Blue Badge parking on-site, and it must be reserved at least three days in advance.
Royal Albert Hall provides some accessible parking spaces for visitors with disabilities.
Kew Gardens offers free parking for Blue Badge holders.
Contact the venue in advance to register and to ensure that a parking space is available during your visit. You can find more information about parking at London attractions with AccessAble's access guides.
Q-Park provides secure and convenient parking in central London. You can find accessible parking spaces close to Tower Bridge, Oxford Street, and West End theatres in Soho and Leicester Square. Parkopedia can help you to locate available accessible parking spots in London.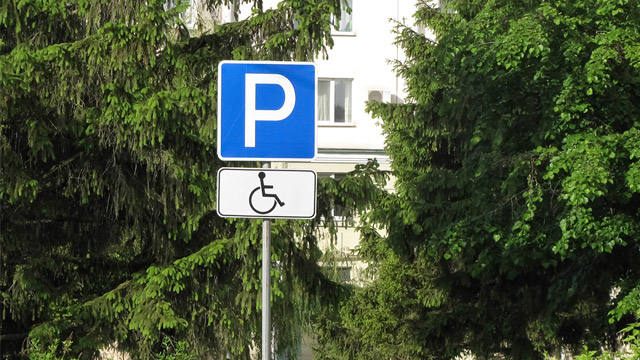 Accessible parking at London shopping centres
If you're looking to go shopping in London, Westfield London offers four hours of free parking for Blue Badge holders from Monday to Friday. Brent Cross Shopping Centre has dozens of accessible parking spaces and more than 100 shops to browse. Accessible parking is available at wheelchair-friendly Ealing Broadway Shopping Centre, and Angel Central Shopping Centre in Islington also has accessible parking for shoppers.
Many of London's shopping centres are part of the Shopmobility scheme which provides a range of free mobility equipment for visitors with disabilities.
Accessible car hire in London
Many London car hire companies can provide wheelchair-friendly and adapted vehicles. Visit Disabled Motoring UK for more information on hiring an accessible vehicle for your trip to London.
For more resources to help plan your trip, check out Accessible London.
Explore by category