In London, as in all of the UK, cars drive on the left.

Public transport is often a faster way than driving to get around London.

The Congestion Charge is in effect on streets in central London during certain times.


All drivers and passengers must wear seat belts.

Car seats are required for children.
London is a tough city to drive a car in, particularly at peak times. London has a well-developed public transport system, which is often the quickest way to get around.
Charges for driving in London
Congestion Charge applies to most vehicles driving into central London between 7am and 6pm Monday to Friday and noon to 6pm on Saturdays, Sundays and bank holidays.
The Ultra Low Emission Zone (ULEZ) covers all areas within the North and South Circular roads. The North Circular (A406) and South Circular (A205) roads themselves are not in the zone. ULEZ operates 24 hours a day every day of the year, except on Christmas Day. Most vehicles need to meet certain emissions standards to drive in the ULEZ, or drivers must pay a daily charge.
The Low Emission Zone (LEZ) covers most of Greater London. The most polluting diesel vehicles, including coaches, minibuses and lorries, must meet certain emissions standards or pay to drive in this area. Cars and motorcycles are not affected by the LEZ.
Essential London driving rules
Make sure you are fully aware of the rules of the road before you drive in London. In the UK, cars drive on the left. The Highway Code is available from most bookshops.
All drivers and passengers must wear seatbelts where fitted. Car seats or appropriate restraints are required for children. Motorcyclists must wear a helmet.
See the Department for Transport website for full details of the legal requirements for drivers.
Driving licences and insurance in the UK
Check whether you can use your non-UK driving licence during your trip on the official UK government website.
Make sure you are adequately insured to drive in the UK if your vehicle is insured outside the country.
Motorbikes and scooters in London
If you're planning to ride a motorcycle or scooter in London, be aware that many roads are narrow, busy and congested.
BikeSafe is an initiative run by the police for both new and experienced riders. Police motorcyclists teach riders safety and skills specific to the streets of London. The courses are suitable for locals, motorbike or scooter-riding tourists and students, as well as corporate clients.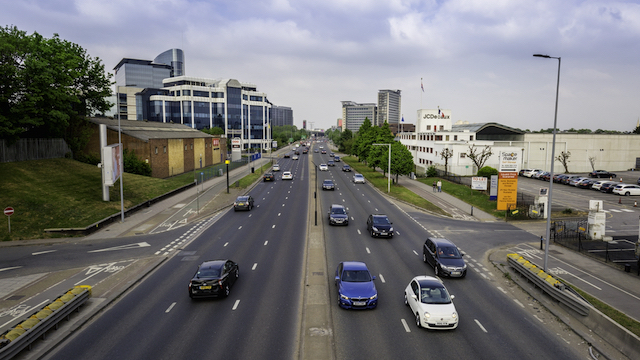 London maps and traffic updates
Find your way around London with online mapping apps and printed guides, such as London A-Z, which is available in most bookshops.
Get London live traffic updates on the Highways England's website, which provides up-to-the-minute traffic news so drivers can avoid accidents and congested roads.
Car parks in London
Parking in London can be difficult because space is limited. Various car parking companies operate car parks throughout London. NCP (National Car Parks) run about 100 car parks in London, including at airports.
Car hire in London
Car hire companies have offices at London's main points of arrival, including airports and major train stations, and cars can be booked in advance.
Accessible driving and car hire in London
Disabled Motoring UK is a charity that supports disabled drivers and Blue Badge holders. Read the website for advice and information about driving in London with a disability.
How to get to London by car and motorcycle
London is easy to reach using the UK's motorway network. The M1, M3, M4, M11, M20, M25 and M40 motorways are in or near London, and the capital has a multitude of major A-roads. All of London's motorways intersect with the M25 orbital motorway. London's airports are also well connected by road.
You can also bring a car or motorcycle into the UK via Eurotunnel or ferry.
Find out more traveller information about getting to and around London.