Hotels
Whatever your budget, hotels provide some of the best places to stay in London. And with hundreds of options to choose from, including world-famous luxury hotels as well as clean, comfortable budget hotel chains, you're sure to find something to suit your needs. Pick a Central London hotel for a great location and access to many of the city's top sights and attractions, or explore London's leafy suburbs which have quick and easy transport links into the centre. There are also plenty of kid-friendly hotels for family trips to London.
Find more information on hotels in London.
Bed and breakfast
If you're planning to be out and about all day sightseeing, a comfy bed and a hearty breakfast might be all you need from accommodation in London. B&B's are generally a cheaper option, and give you the flexibility to sample some of the delicious cuisine London has to offer at lunch and dinner. Many bed and breakfasts are also family run, meaning the owners will be happy to share insider knowledge about the local area too.
Find more information on bed and breakfast in London.
Hostels
Offering beds and rooms at a wide range of prices and levels of comfort, hostels are the perfect places to stay in London if you're on a budget. Whether you're looking for a London hostel with dorm rooms and a bar to meet new people while travelling, or a private room with an ensuite for a quiet night's sleep, London hostels will let you stay in a great location at a lower cost.
Find more information on hostels in London.
Accommodation agency
Use an accommodation agency to help you find places to stay in London. Some agencies manage groups of self-catered or luxury serviced apartments, while other companies offer homestays, which set you up with a host or host family in London. Some agencies help you find the best of both – rooms or entire apartments belonging to real Londoners, who will be able to give you insider tips on how to get the most out of your visit while still giving you the privacy you need.
Find more information on accommodation agencies in London.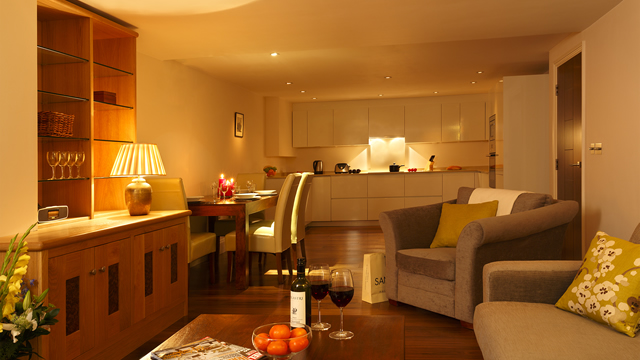 Campus accommodation
Take advantage of the enviable Central London location enjoyed by students at London universities at their campus accommodation. Plenty offer a range of comfortable, great value holiday and short-term self-catered accommodation, while some even include breakfast!
Find more information on campus accommodation in London.
Self-catering
Self-catered apartments are the perfect option for large groups or families looking for places to stay in London. Booking out an entire apartment can be more cost-effective than booking multiple hotel rooms for large groups, while families get a bigger space and more flexibility. With private or shared kitchen facilities you won't be tied to set meal times, and it will be easier to cater to fussy eaters or those with special dietary requirements. There are self-catered apartments available to suit any budget and any length of stay.
Find more information on self-catering accommodation in London.
Pub accommodation
Book a room at a London pub if you want to sample delicious food and real ales, and learn more about London's fascinating heritage during your stay. The locals you'll meet at some of London's oldest and best drinking venues will also be able to fill you in on the history of the pub itself, and point you in the direction of other great eating and drinking establishments.
Find more information on pub accommodation in London.
Camping and caravanning
While you may not have considered camping in London, there are actually five permanent campsites within the M25. Booking a pitch at one of these sites is often much more affordable than a hotel, and gives you the freedom to move around to several places in London during your stay. Don't fancy sleeping in a tent? Many London campsites have caravan pitches too.
Find more information on camping and caravanning in London.